Our Mission
Acme Industries has been serving the Aerospace, Commercial and Precision Instrument communities since 1955. We are fully equipped with up to date CNC machining centers together with the latest CAD/CAM/CMM workstations. Acme combines large company capabilities with small company responsiveness and innovation.
About Acme
Acme Industries is a manufacturer of small, medium and large sized machined components and subassemblies. We machine all types of metals in accordance with Customer design.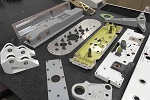 Established in 1950, Acme Industries today has precision manufacturing facilities located in Ronkonkoma, New York. Our customers are mainly in the Aerospace, Instrument and Commercial industries. Our 12,000 sq. ft. main facility houses both horizontal and vertical machining centers, a climate controlled quality department equipped with both Manual and DCC CMM's along with state of the art CAD/CAM/CAI systems including Catia, PCDMIS and Mastercam. We have expanded on the block into a second 2,000 sq. ft. facility dedicated to performing all assembly work. Acme utilizes JobBoss to tackle our Product Data Management and Manufacturing Plans / Travelers.
Acme Industries is AS9100C/ISO certified along with ITAR registered.
Our Customer list includes: GKN Aerospace, CPI Aerostructures, Saab~ Aerospace Div, Curtiss Wright, Anorad~Rockwell Automation Div, Arkwin, BAE Systems, Exelis, L3 Communications.

Acme achieved Dock to Stock / Certified Supplier status with GKN Aerospace, CPI Aerostructures and L3 Communications. Acme has been Awarded North American Supplier of the Year at the Farnborough Airshow by GKN Aerospace. We also hold an approval to manufacture Fracture Critical parts with Northrup Grumman and GKN Aerospace.

Acme combines large company capabilities with small company responsiveness and innovation. The Acme Team understands the needs of our customers and has the flexibility to answer their critical delivery requirements.